Kettlebell swings are great. There are a lot of benefits, here are a few:
Recruits a great deal of muscles to stabilize
Works in multiple planes of motion while performing an exercise
Often used for fat loss
Strength as a function of mobility
Unfortunately a big downside to KBs for a lot of people that train at home is the cost.  Additionally it is awfully hard to find used kettlebells.
Some people have stated "well kettlebells are worth it, they should just buy them!"  Listen, I understand what its like to not have a lot of money, so those people should start looking for other people's perspective. 
Kettlebells included (and same for dumbbells, barbells, strongman, rope, sandbags)  there is NO MUST BUY peice of equipment.  Bottom line if people don't have the money, its time to help them out with a few substitutes. 
Heck, you can get fit will no equipment at all – Guide to Bodyweight Training.
I get it.  People want to get an effective home gym together for a few hundred dollars and have it as a great place to workout.  Also, I have been seeing more and more that father's love having a place where they can train their young sons and daughters. 
So, keeping that in, mind here is a variation off the Kettlebell Swing you can perform with standard gym equipment.  You may use hex head or pro style dumbbells.  I picked up a 15, 25, 35, 45 lb hex heads on craigslist for $20. 
Dumbbell Swings
While the dumbbell swing and kettlebell swing "look" the same, there are some important differences to keep in mind. 
While this is a variaiton, these movements are different.  The largest mechanical difference is the dumbbell swing will train the grip more, but the posterior chain less.   The grip will be different since you cannot close your hand around a handle, it is an open hand exercise.  The posterior chain will be trained less since chances are you cannot use as heavy of a dumbbell as you would a kettlebell.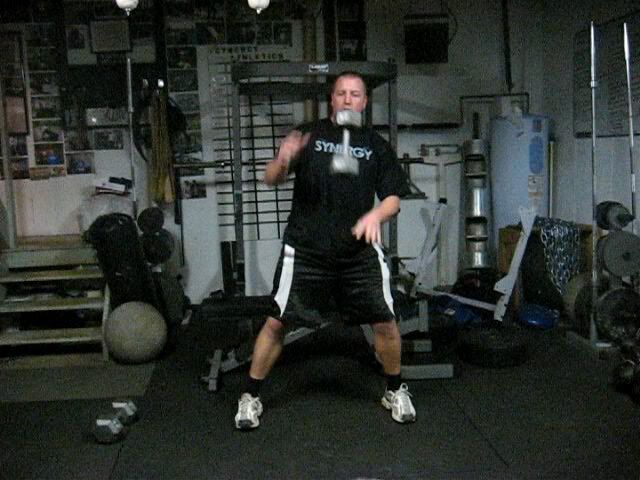 Taking that into consideration this is a cost effective way to get effective strength workouts. 
I have a few more alternatives up my sleeve
DO YOU HAVE ANY MORE VARIATIONS?  Post them up in the comments!
- Joe Hashey, CSCS -
==>PS.  "Bull Strength has changed how my players are performing this off season both mentally and physically.  Thank you and please don't let any other teams in my area get their hands on this!" – Todd Y.
Want the same results?  Get Bull Strength NOW!